November, 2001

Editor
Michael Lewis

Contributors









Web Guru
Michael Lewis
Archive
August, 2001

October, 2000

June, 2000

February, 2000


One Zine at a time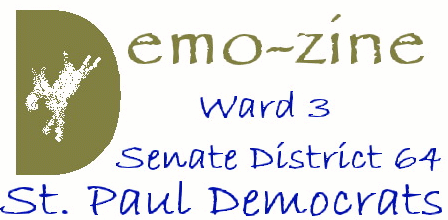 Election Night
City DFL Chair Scott Cooper and
Associate Chair Brigid McDonough opened the party.

Toni Carter enjoying the evening.

John Brodrick celebrating the results,
with his grandson.

Jay Benanav and Lucy Kanson greeting the faithful.

Elona Street-Stewart rallying the troops (it was still close).

Rev. Miller and Dennis Gerhardstein in conversation.

And Mickey's is always there for the late night analysis.
Michael Lewis
D-Zine Editor/Ward 3 DFL Chair
On-line
and
Out Front
'Zine Fodder
Back to
Skool

Features