August, 2001

Editor
Michael Lewis

Contributors









Web Guru
Michael Lewis
Archive
October, 2000

June, 2000

February, 2000


One Zine at a time
Next Zine
Next Zine
Next Zine
Next Zine
Next Zine
Next Zine
Next Zine
Next Zine
Next Zine
Next Zine
Next Zine
Next Zine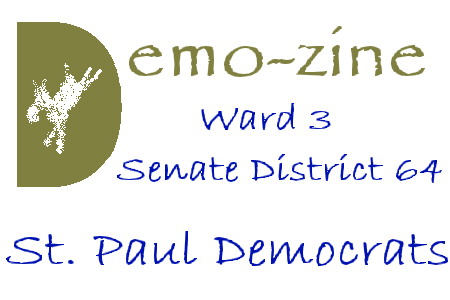 Combined Campaign at Rondo Days
Senate District 65 (above) gets
the combined campaign started.

John Brodrick (right) greets paradegoers.

Elona Street-Stewart knows why its
called "running" for office.

Now these guys know
how to have fun.

Jane was convinced to stop hiding
behind her sign for this picture.

Jay Benanav enjoying a chance to
talk issues with people in
the neighborhood.

There were many more people in the parade,
including this guy in a cow suit. That's why
we love parades.
Michael Lewis
D-Zine Editor
On-line
and
Out Front
'Zine Fodder
If it's Sunday,
it must be the
20th Ballot

Features