January, 2003

Editor
Michael Lewis

Press Releases
Mike Erlandson

Senator Dayton

Rep. Matt
Entenza




Web Guru
Michael Lewis


One Zine at a time

Archive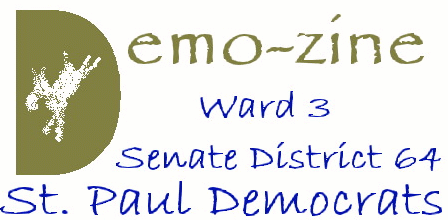 New Address - Same St. Paul DFLers
www.demozine.org - www.stpauldfl.org
DemoZine is your source for information on DFL events and issues in Saint Paul, Minnesota and the nation. As always, we take our issues as we find them, but the focus is on Saint Paul's Ward 3 and Senate District 64.
The articles show that discussing serious issues doesn't have to be boring. (We hope!) The calendar identifies events for the DFL party, caucuses, candidates, and activists. Let us know if you have an event that fits our issues. When available, we post pictures from a variety of DFL events.
The Saint Paul School Board and all seven City Council seats are up in 2003. Whether it's a national issue, or politics at its most local, this will be an interesting year. We hope you will share it with us.
Michael Lewis
D-Zine Editor/Ward 3 DFL Chair
On-line
and
Out Front
'Zine Fodder
Lottsa Luck

Features