January, 2003

Editor
Michael Lewis

Press Releases
Mike Erlandson

Senator Dayton

Rep. Matt
Entenza




Web Guru
Michael Lewis


One Zine at a time

Archive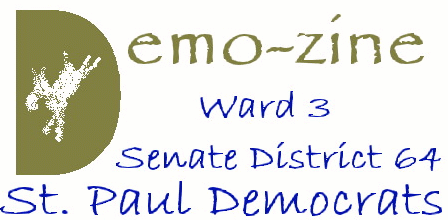 Lott in Life
Well, the country has recently found out what those attending the Wellstone Memorial already knew: when Trent Lott shows up, you boo.
But amnesia seems to be spreading faster than the Norwalk virus on a cruise ship. It was only last month when the Republicans were assuring the nation that they were truly committed to improving improving race relations and denying that there ever was any "Southern Strategy." Who can remember all the way back to Nixon in '68, anyway. To show that they are serious about this, Senator Lott's hand-picked candidate from Mississippi, Judge Charles Pickering, has been renominated for the U.S. Court of Appeals. From controversial sentencing in a 1994 cross-burning conviction, to asking the Mississippi Sovereignty Commission to keep tabs on folks in the 1970's , Judge Pickering has displayed the same sort of careful attention to improving race relations that Senator Lott has displayed over the decades.
In the interest of full disclosure, Judge Pickering hasn't always been a Republican. Like Senator Lott, he started off as a Democrat. Also like Senator Lott, Judge Pickering quit the Mississippi Democratic Party when the national party insisted on racial integration. It is unlikely that we will ever know what Judge Pickering really thinks about Strom Thurmond's presidential campaign as a Dixiecrat. But I think we can come to some conclusions about the Republicans' commitment to including everybody in benefits that our society can offer. And when we've reached those conclusions, I think we will all agree; it's o.k. to boo.
Michael Lewis
D-Zine Editor/Ward 3 DFL Chair
On-line
and
Out Front
'Zine Fodder
Lottsa Luck

Features